About Us
Welcome to our Boxing Equipment website.
Our store is owned by Les Cooke, who has over 35 years experience in the sport and is also currently an England Boxing Coach and Official
Opening Times
WALK IN STORE OPENING TIMES.
Monday - Saturday 9am until 1pm
CLOSED on Sundays.
CUSTOMER NOTICE - IN STORE
At present, we will be operating a 1 Customer at
a time in / out until further notice.
..............................
Please Note, we also run a busy
Amateur Boxing Gym, so we may
sometimes close early, due to
commitments, Please feel free to
phone before leaving home.
Store Address - 4 Basilca House
334 Southend Road, Shotgate,
Wickford, Essex SS11 8QS.
01268 574 679
Payment Method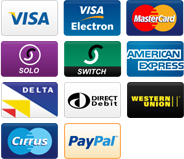 Keep in Touch
Telephone - SHOP
01268 574679
boxingcorner01@gmail.com
Store Address
BOXING CORNER SHOP 4, Basilica House, 334 Southend Road, Shotgate,Wickford, Essex SS11 8QS United Kingdom Phone 01268 574679
Sign up to Our Newsletter
Register to receive our newsletter, bringing you exclusive offers and the latest news.

Main Event Boxing Apparel. Owned, designed, manufactured, tested, trialled supplied and guaranteed by The Boxing Corner. www.boxingcorner.co.uk
"we are boxing people" ...!
© Copyright 2015. The Boxing Corner.
Ecommerce Web Design by WebCreationUK